The "little pink pill", sometimes referred to as the "Viagra for women", is having a hard time performing up to its corporate claims.
When the drug flibanserin (brand name: Addyi) was approved a year ago by the FDA – supposedly to help women's flagging libido – the National Women's Health Network (NWHN) promptly launched a "Pass on the Pink Pill – Or Pass Out"  national campaign to warn women of its "marginal benefits and serious side effects…complications like dangerously low blood pressure, dizziness, and even sudden loss of consciousness!"
On the first anniversary of the drug's availability the NWHN reports:
It won't surprise you that the drug gets bad grades for safety and effectiveness, or that drug maker Valeant—the pharmaceutical giant known for price gouging and shady business practices—hasn't reported the results of any of the post-market safety studies it was told to conduct, even as it charges women $800 for a month of pills.

But we are thrilled with one of Addyi's grades so far: we were happy to give it an F for "demand." At its sales peak in March, only 1,500 prescriptions were written.

[T]o learn more about how this bogus drug got on the market or the top 10 things women should know when considering this drug, check out our website.
The NWHN, a feminist organization dating back to 1975, exposes the fact that 9 out of 10 women saw no improvement in sexual desire, even during the clinical trials held before FDA approval.  NWHN says, "the FDA buckled to pressure from a savvy astroturf campaign" presumably mounted by Valeant.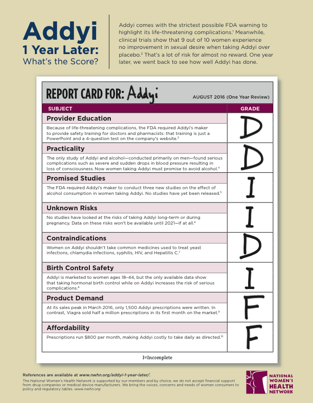 The very idea of medicating women for a lack of sexual desire ignores many of the life experiences that impede libido: over work, lack of appreciation, lack of meaningful communication with one's partner, sex that is expected yet simultaneously has become a boring routine. Something that might well improve women's libido is better sex with a considerate partner who tries to please!
•  •  •
Women who founded the National Women's Health Network have been on the front lines fighting the over-medication of women for more than 45 years. In 1970, five years before establishing the Network, members of DC Women's Liberation and the newspaper collective Off Our Backs invaded closed meetings of the FDA Advisory Committee on Obstetrics and Gynecology and disrupted Senate hearings on the birth control pill, demanding that women be warned of serious side effects.  The result of their efforts was the first-ever patient insert that accompanied every month's supply of pills. 
Many women may not be aware that the original pills had almost ten times the amount of hormone as oral contraceptives have today. In the 1960s, strokes and fatal blood clots were quite common in otherwise healthy young women. When the warnings were placed on the Pill, all patients knew, for the first time, what warning signs to watch for.  As a result, Pill-associated death rates came way down [though there still are safety concerns with this form of birth control].
Warnings to consumers were strongly opposed by the pill manufacturers, the American Medical Association, the American College of OB/GYN and population control organizations.  Wisconsin Senator Gaylord Nelson, who held the "Pill Hearings" in 1970 after the national uproar caused by feminist NWHN founding member Barbara Seaman's groundbreaking book, The Doctor's Case Against the Pill, actually lost his Senate seat following a huge infusion of money into the campaign of his opponent.
Another more recent NWHN victory involving the over-medication of women is the dramatic decline in breast cancer rates among U.S. women following results of the Women's Health Initiative  which demonstrated that menopausal hormone replacement treatment (HRT) increased cancer risk and did not help prevent heart disease in older women.
The NWHN website is a "go-to" place for women to check out information on medications and procedures that their doctor may prescribe, like the latest "osteopenia" scare. There's also a weekly Q & A and email alerts.
#  #  #